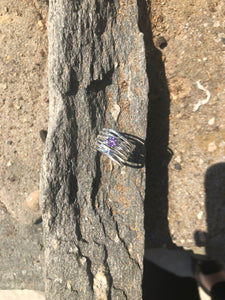 The sea is omnipresent in Greece and in this design Elena pays homage to the playground of her childhood summers. This ring, made out of recycled sterling silver, reminds us of playful waves, campfires on the beach, parties by the sea. A little piece of summer to be worn throughout the year.

Made out of recycled sterling silver and a beautiful amethyst gemstone.

Every piece is uniquely handcrafted for you in Elena's studio in Greece. As natural gemstones are being used slight variations in colour might occur.
Find your size here